Austin & Ally is an American Disney Channel sitcom. The episode made its premiere on December 2, 2011. The series was created by Kevin Kopelow and Heath Seifert, the writers and producers of Disney Channel sitcoms Sonny with a Chance and Jonas. Production for the pilot episode began in mid-February 2011. On May 25th, 2011, Disney Channel announced that Austin & Ally had being picked up for a late 2011 premiere. The first promo was released on October 14th, 2011 during Disney Channel's Make Your Mark: The Ultimate Dance-Off event. A series preview followed the premiere of the Disney Channel Original Movie Good Luck Charlie, It's Christmas!. The series officially premiered on December 4, 2011. The show was renewed for a second season[1], and resumed production in the summer of 2012. Season 2 premiered on October 7, 2012, and production for Season 2 ended in early February 2013.
The show was planned to renew for a third season on March 12, 2013 at the Disney upfront.[2] It was officially confirmed on April 2, 2013 by Disney Channel.[3]
The show was renewed for a fourth season on April 25, 2014 on their fans demand.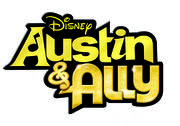 References
Edit
Season 1
7.The Butterfly Song
9.You Don't See Me
11.Heart Beat
12.Na Na Na
14.Illusion
Season 2 (New Songs)
2.Who I Am
3. Got It 2 
10.Finally Me
12.Timeless
15.The Me That You Don't See
Season 3 (New Songs)
1.Chasin' the Beat of My Heart
2.Redial
4.Austin & Ally Glee Club Mash Up
5.Who U R
8.Me And You
11.Parachute
Cast and Characters
Edit
Ross Lynch as Austin Moon
Laura Marano as Ally Dawson
Raini Rodriguez as Trish De La Rosa
Calum Worthy as Dez Wade